Pokemon Go Nearby Tracker Works Again
Pokemon Go is a popular game once, and Niantic shut down the third part trackers to prevent the cheaters. As a result, many players quit playing even though it is just one of reasons. But now the nearby tracker is rolling out around the world. Besides, there is a Thanksgiving event so that players can totally enjoy the game. And also Pokemon Ditto is also appeared!
With this updated tracking system, Pokemon Go trainers can get a better idea of where specific Pokemon are located, as the tracker shows which Poke Stop the creature is closest to at any given time. This replaces the old system, in which players were informed of what Pokemon were nearby but were given no information more specific than that. When the game first came out, players could pinpoint a Pokemon with a system of one, two or three footsteps.
But the tracking system are exclusively available in the following areas that Niantic specified:
United States of America: All states west of the Mississippi River (except Hawaii and Alaska)
Canada: British Columbia, Alberta, Saskatchewan, Manitoba, and the western half of Ontario.
Australia: All states and territories
If the tracking system is available in your area, then you just open the game, the tracking system will update automatically.
In addition, Ditto is available in the game. It is reported that Ditto appears as a standard Pokemon, like Pidgey or Rattata, then transforms into Ditto after being caught. Here is a picture of Ditto that players have caught it.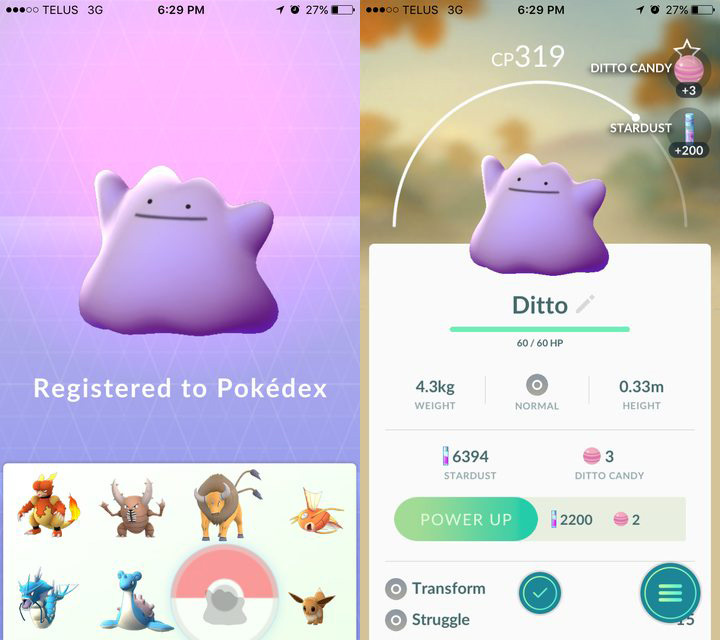 So have you caught one? What's your progress of the completing the Pokedex? More information about Ditto or this game is to be updated on this page. And also you can get rare Pokemon if you like, more stardust to power, power leveling and Pokemon Go accounts.